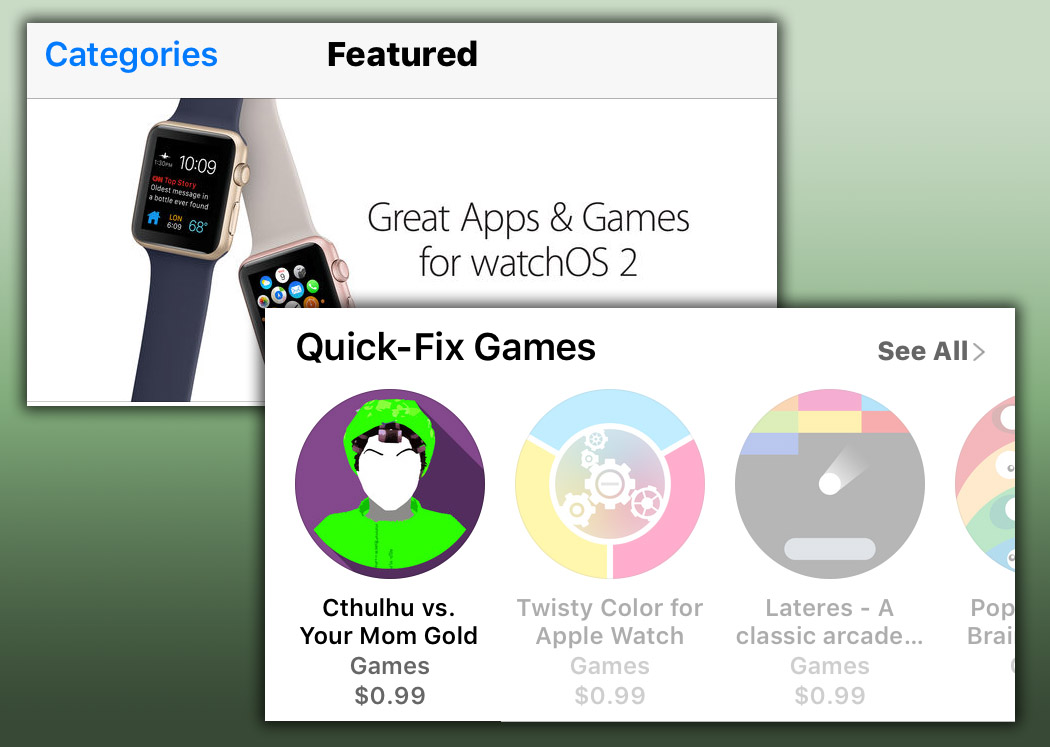 Ever wish, pray and want something so much that when it actually happens you are kind of stunned? The day Apple watchOS 2 was released, I was browsing through the brand new featured games section "Great Apps & Games for watchOS 2."  There, on the next swipe across, was our game icon staring me in the face – Cthulhu vs. Your Mom Gold!  (As of this writing it is still being featured in the watch app store.)
My wife Jill and I had worked for 8 months on that project, and the game had evolved through so many variations, so many ups and downs, so many choices.
So I thought I would share with you some secrets to what makes a great watchOS2 game, and in the process, share a bit of the backstory behind it.
Choose the right candidate
Every single gaming platform has its own strengths and weaknesses. Mobile platforms offer unique challenges. Screen size and touch input are the biggest factors in considering what makes a great candidate for a game.
Cthulhu vs. Your Mom is basically a wak-a-mole type game for a number of reasons:
A 3X3 matrix of buttons is about as much as I feel the Apple Watch can handle.
A game based on native animated buttons works very well, and herein lies a key secret for creating a responsive game: Cthulhu vs. Your Mom Gold uses native UI animated buttons with NSTimers
Play to the strengths of the platform.
Think of a Great Title and Tag Line
As H.P. Lovecraft fans, we had been intending to create a Cthulhu game since the announcement of the Apple Watch, and somewhere along the way of creating a title for the game I started to think of "Cthulhu vs. ________."
I thought of so many nemeses for Cthulhu to battle; then one night I was feeling a little silly and thought, "Cthulhu vs. Your Mom." And I giggled, and then I laughed, and everytime I'd think of it I'd laugh again. It seemed like the perfect "your mom" joke. I thought of people sitting around playing it, saying "dude, I just touched your mom."
I thought, "do I dare call it that?" If we weren't Indie developers, it would have never escaped a meeting room, but as Indie developers, I feel we need to give people something they don't get from big game studios.
Don't sanitize your material! It shouldn't be crude or in poor taste, but push the edges a little. This relates to advice Jonathan Blow gives in the movie Indie Game. Don't file off the rough edges. Keep your indie game a bit rough, but rough in a professional way.
Along with a great title comes a great tag line. Our tag line was a natural extension born from the mechanics of the game:
Tap Cthulhu, Don't Touch Your Mom!
When we pitch the game to first time players that line always gets as big of a laugh as the title.
There is even a funny message that comes up when you tap on your mom, but I'll save that for you to discover on your own.
Bottom line: Think of a title and tag line that stands out.
Make your watchOS Game Fun
This is one of those duh statements, but I wonder if people really stop to gauge if the process of playing their game is fun.
One of the original Halo developers said, "In every game there is about 30 seconds of fun, that is repeated over and over again."
You can milk that 30 seconds for all its worth, but you have to nail those 30 seconds of fun. If your game isn't fun at the core, find a way to make it fun, or find and choose a new candidate.
Don't Deliver Less Than A Great Experience
The concept of a minimum viable product (MVP) may work for certain products, even games, but if your game isn't a great experience, it's not viable.
Cthulhu vs. Your Mom Gold was meant from its inception to be a game for the Apple Watch. Every decision was driven by the watch version of the game.
But when we tested it on WatchKit (the first OS version of the Apple Watch), it was less than an enjoyable experience.
We could have released it, but we decided to give it time to mature.
Grant Wilson, the former Ghost Hunters star turned game developer, once told me, "A late game is only late until it's released; a bad game is bad forever." That's incredibly good advice, and I am incredibly grateful to him for that advice!
Why release a game if you know it isn't as good as it would be if you only spent more time  polishing it?
So we waited for watchOS 2 to be released, and we made the accompanying iOS game better…MUCH better. We added Game Center support. We refined the game play. We tested…a lot!
Does that mean it can't be better? No. It will get even better.
But would Apple have featured our game if it weren't at the level it is now? No.
Does that mean you should wait until the game is perfect? Again, no. Just don't ship a game that's going to frustrate gamers.
Give Your Game A Look
It took a fair bit of experimentation to settle on a style for our game. Our original graphics were a combination of Poser renders and clip art.
They were okay, but they were less than memorable.
The time came when I thought of an idea: "What if I render everything using purchased Poser assets, posterize them into fewer colors, then auto-trace them in a vector program."
This is the secret to our look. The results, I think, are awesome.
Then we experimented with color.
Originally Cthulhu vs. Your Mom had many opponents, with many colors. And guess what lost its meaning? Yes, of course, the title. It was no longer Cthulhu vs. Your Mom. It was Cthulhu vs. Your Mom…and the Miskatonic Librarian…and the Chesuncook Witch.
It was time to stop and refocus. We didn't throw away those characters – we made them achievements in Game Center.
And we went back to our monochromatic color palette with a punch of green. I like the look. I think it's unique.
Make a Great Promo Video
When it came time to create a video promo for our game, we began researching who could do the voice over.
We came across many who were good, but not exceptional. One artist, however, is head and shoulders above the rest: Ken Scott
You've most likely heard Ken's work. I am blown away by his vocal performances. Take a  listen:
Hilarious, right? Jill produced a killer concept for the copy and this, combined with Ken's vocal delivery, made it a one-two punch.
As I sat in Starbucks reviewing Ken's submission, I doubled over with laughter when he said our tag line. It was better than I could have ever imagined.
Our only hesitation in hiring Ken was that I assumed we wouldn't be able to afford him and feared this might not be the kind of work he was interested in doing. Don't ever assume.
It takes money to make money, and it especially pays to spend money in the right places.
Two days ago I heard John Saddington speak at Release Notes, an incredible conference centered around the business side of development.
John's presentation was very revealing. John is one of those people who isn't afraid to spend money, and yet the return on investment he achieves makes it well worth what he spends.
Just take a look at his promo for desk.pm:
Jaw dropping. Money well spent.
(Please take a moment to follow me on Twitter, won't you? @NS_Bliss)