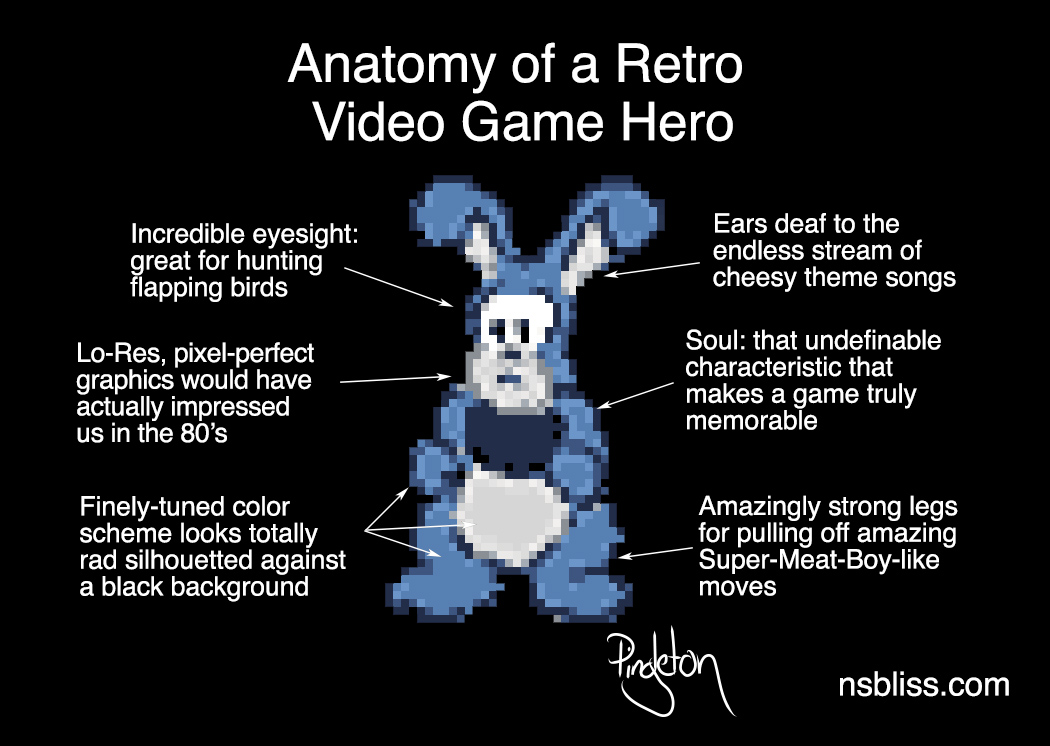 The retro video game movement is here to stay. A new title appears on Steam every day it seems. But retro games have new competition from the flat movement, especially in the iOS market.
In this post I'll examine the characteristics of both retro and flat games, give reasons why I believe both are so popular, and talk about the strengths and weaknesses of both.
(Please consider following me on twitter, or adding my RSS feed. Thanks!)
What Is a Retro Style Game?
Retro style video games are essentially games with low resolution graphics (often called lo-res or 8-bit graphics) which borrow heavily from the artistic styles and gameplay elements of arcade and console games of the 80's such as Donkey Kong, Joust, Super Mario Brothers, etc.
Flappy Bird, an incredibly popular Indie game, is a great example. The flapping dynamic borrows heavily from the video game Joust, while the graphics and side-scrolling gameplay are reminiscent of Super Mario World.
The simplicity of the game's goal (to navigate between gaps in the pipes), hides how incredibly challenging the game can be.
Other great examples of retro style games are Bit Trip Runner, VVVVVV, Super Meat Boy, and Fez,
What is a Flat Game
Flat games are distinguished as having graphics that are simple, almost geometric in nature. Flat design was adopted heavily by Apple with the release of iOS 7. As a result many iOS developers adopted this design philosophy.
Artwork is iconic in nature; it is more representational than an exact replica.
Good examples of flat games are Spring Ninja and Flurf, but there are many others.
Many flat designs also feature a color palette that trends toward muted pastel colors, while some feature designs with stark, contrasting colors. Here is a good example. Here is another.
Retro Games, Digital Distribution and Indie Studios
The rise of the retro gaming market coincides with the rise of the independent (Indie) game movement and digital distribution.
Steam, a video game software store owned by Valve Corporation, was initially created to provide updates for its own game titles (such as Half-Life and Counter-Strike) but eventually grew to include digital distribution, digital rights management (DRM), social networking, and other services.
By one account, it is estimated that Steam has a 70% share of the digital distribution market for video games.
For years Indie game studios were producing games and distributing them to a small but devoted audience on the Web, but Steam gave Indie game studios the opportunity to distribute their games to a wider audience.
Gamers, who were longing for creative content which was considered less main-stream, struck gold with Indie titles.
Apple created their own digital distribution market with the iOS App Store for iOS devices.
The Advantage of Simple Graphics
Elaborate, open world, AAA game titles require teams of hundreds to thousands of creative artists, musicians, and programmers to produce.
Conversely, Indie game studios may consist of as few as one or two people performing multiple roles.
With such restrictions, simplified graphics provide the means to achieve more with less, freeing up the creators to add character and originality to their game.
Both retro and flat games are characterized by their use of simple graphics, but rather than being put-off by their simplicity, gamers generally seem to have embraced them.
Retro Style Strengths and Weakness
Strengths: The strength of the retro approach is that it harkens back to an age of gaming when graphics were simple, but gameplay was king. Gamers still play games such as Defender or Pac Man mainly because their developers created well-balanced, fun games.
It is a lesson developers need to be reminded of again and again: A game that is fun doesn't need to have cutting edge graphics, and a gorgeous game that isn't fun, won't sell.
As a retro game developer, it is up to you to make a game that will live up to the standard of gameplay set by classic games of the 80's.
Weaknesses: Even though pixelated graphics are accepted, they can still look tired. A title still needs  stand out visually.
Scaling pixelated graphics must be done in such a way that they don't get blurry. Certain scaling methods cause anti-aliasing which ruins the effect. Maintaining a pixel-perfect aspect ration is key.
Flat Game Strengths and Weaknesses
Strengths: Flat design is trendy. If you are wanting a game to look hip or ultra modern, flat is a great choice.
Flat graphics can be created with vector graphics programs and scaled to any size. If you've ever created bitmap graphics at a low resolution and later needed a higher resolution, you know how much of pain this can be. Having a geometric design which can scale eliminates a lot of heartache.
Weaknesses: Flat design doesn't have the same association with solid, retro-era gameplay.
Poorly chosen color palettes can make elements harder to distinguish visually or look busy, both of which detract from game play. If you're going the flat route, you really need to test design over time to make sure it stands up to repeated plays.
Probably the most inspiring color palette I've seen in quite a while is Monument Valley.  Each level was created to be a work of art that would look great as a poster.